POST WRITTEN BY: Abdullah Snobar, Executive Director at the DMZ — a tech accelerator for high-potential startups to scale and grow into world-class businesses.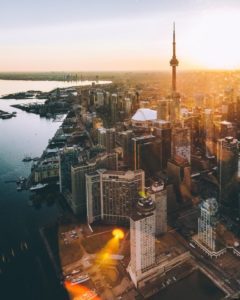 When it comes to technology and innovation, Toronto, Canada's largest city, is packing a heavy punch.
Though the city may be best known for its vibrant arts, culture and sports scene over the past decade, Toronto has seen a proliferation in the number of startups, VC investors and global tech giants calling the city their home.
In fact, indicators show that Toronto, where our own company is headquartered, is now competing at the same level as other booming tech cities in North America and around the world.
Why is this happening? Well, before we get to that, let's start by looking at what's going on.
What's Happening In Toronto's Tech Sector?
Exponential growth of the tech sector and talent
Over the past decade, Toronto and its surrounding areas to the west—a 100-kilometer stretch known as the Toronto-Waterloo Corridor—has seen an exponential expansion of its tech sector. In fact, you could compare its growth to that of a unicorn startup.
The Toronto-Waterloo Corridor has developed so much in the past 10 years that it now supports over 5,200 startups and 15,000 tech companies, making it the second-largest technology cluster in North America.
This has been supported by Canada's world-class public universities and colleges, many of which have ramped up their technology and business programs and have helped produce a steady stream of incredible talent for the sector.
Massive swell of VC and public investment
Toronto's tech scene has also seen a large influx of venture capital investments. Several billion dollars of funding have been infused into the sector in a short period of time.
The government has also taken a deeper interest in its technology talent, providing more funding and procurement options for startups and beginning to align public programs to leverage Canada's tech resources.
Global giants bringing in tech labs
Another trend happening in Toronto right now is the inflow of global corporations' tech labs. Fortune 50 companies and other multinationals have recognized the benefits of moving their technology departments and innovation labs to the city—and they're acting fast.
For instance, Toronto recently welcomed the innovation arms of Uber, Intel, LG and Samsung, to name a few. While Amazon has not selected Toronto for its second headquarters, the company is continuing to make investments in the city, and Microsoft announced the opening of a new office in downtown Toronto. Even Collision, North America's fast-growing tech conference, chose to relocate to Toronto in 2019.
Why Has Toronto Emerged As A Global Tech Hub?
What factors are responsible for Toronto's position in the global tech scene? Let's take a look at a few.
Toronto is a desirable place to live and do business
People often point to Canada as being a great place to live and do business—and it's true. Canada offers a friendly immigration policy and a unique startup visa program. It also provides access to healthcare, social services and education, as well as economic steadiness, a stable democratic government and a high standard of living. Canadians are generally seen as welcoming, accepting and inclusive, and the country, for the most part, has been built on the idea that strength comes from diversity.
Companies want to do business in environments like this, and people want to live in places where their merits are valued regardless of their country of origin. Although not perfect, Canada is a very attractive place for people, families and businesses to grow.
Toronto supports innovation and startups

Tech innovation and startups are well supported in Toronto and across Canada. Although once seen as outside the norm, startups are now considered a desirable type of business to invest in or work for. In fact, it's not uncommon to see seasoned executives leaving their six- and seven-figure jobs to apply their knowledge at a startup.
Toronto is a major player in deep tech
An exciting trend in Toronto is the emergence of competencies around deep tech—primarily artificial intelligence (AI), blockchain, augmented reality/virtual reality (AR/VR) and, most recently, cybersecurity. Toronto is home to some of the best deep tech talent in the world right now, many of whom are focused not only on advancing business, but also on changing people's lives for the better—a coupling that Canada is known for.
Another heavy-hitting feature about Toronto is that its deep tech can be applied across different verticals, making the city's innovations dynamic and scalable on a global level. Plus, on the financial front, Toronto is home to five of the world's largest banks, which has facilitated the emergence of a cybersecurity niche.
Together, startups and corporations are demonstrating increasingly symbiotic relationships, and some massive exits are expected from Toronto startups in the next several years.
What Does The Future Hold For The Tech Industry In Toronto?
Given the growth that Toronto's tech industry has seen over the past decade, it's exciting to think about what the next several years will hold.
Yes, Toronto needs continued public investments to support its startup community and universities, and yes, the city is not perfect. However, Toronto has shown the talent, grit and drive needed to rise to the occasion. As Toronto's tech scene continues to swell, it's validated what everyone in the city has known for years: Toronto is more than just a city graced by friendly people, the Toronto Raptors and Drake; it's a global tech destination, and it's here to stay.
If the city continues to double down on the investments already made, and if the tech community continues to foster its unique skill sets, Toronto will most certainly continue to hold its place as a global tech and innovation leader.