Article and report written by: Peter Newman on BI Intelligence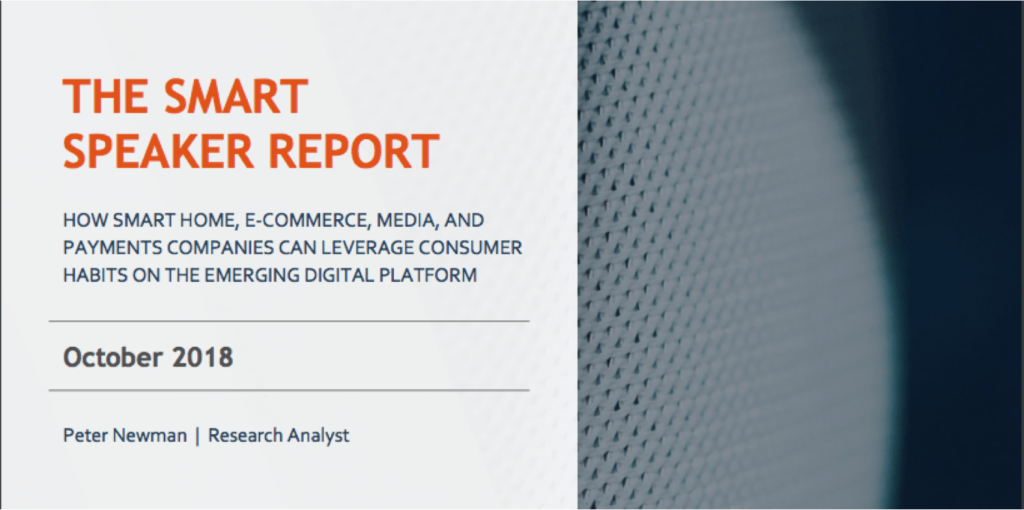 KEY POINTS
Smart speakers comprise one of the fastest-growing device segments in the consumer technology market today. Ownership levels have nearly doubled over the last two years, rising from 28% in early 2017 to almost 55% in summer 2018. And we expect that by 2023, there will be nearly 200 million smart speakers in US homes. This presents an opportunity not only for manufacturers, but also for those looking to sell products, deliver media, and offer access to services like banking over these devices.

This growth has been driven by rapid hardware iteration in the market since Amazon's introduction of the Echo smart speaker and the Alexa voice assistant in 2014.


Google and Apple have also released flagship smart speakers powered by their own voice assistants — the Google Home powered by Google Assistant and the Apple HomePod powered by Siri, respectively.

And Samsung previewed its own entry into the market with the Galaxy Home in August 2018.


Business Insider Intelligence's 2018 Smart Speaker survey collected responses from more than 500 US consumers to better understand their knowledge of and engagement with smart speakers. We first conducted a survey delving into smart speaker ownership in February 2017, and followed up recently with a more in-depth survey that gives us a key insight into changes in the market.

Despite their growing popularity, nearly half of respondents still don't own a device — which presents a long runway for adoption. Our survey data reveals a number of key factors that impact whether or not someone owns one of these devices.


One key factor is on the basis of income. Just 40% of consumers with annual household incomes under $75k own smart speakers, compared to 65% of those with incomes over $150k. These devices are still seen as luxury devices, and those without extensive disposable income are less likely to invest in one.

Smart speakers are most likely to be owned by millennials and Gen Xers, with baby boomers lagging behind significantly. This aligns with general technological expectations — younger consumers are more likely to adopt newer technology — but Gen Xers are also more likely to be homeowners who have a place for a smart speaker, as well as the disposable income to spend on the devices.

Most Amazon Prime members — 60% of them — are smart speaker owners. Meanwhile, just 30% of those who aren't members of Amazon's premium service own smart speakers.

And many consumers receive smart speakers as gifts from others, rather than purchase the devices on their own. Almost half of those who identify as members of the late majority who do own smart speakers said that they received them as gifts, along with a third of early majority consumers.


Smart speakers are establishing themselves as a key platform. But what is more relevant to companies across the e-commerce, smart home, digital media, and payments spaces is what consumers are actually doing with these devices.


Many of the most common tasks consumers use smart speakers for are routine tasks such as checking the weather, setting reminders or timers, and performing general searches. These use cases can be classified as ways that the smart speaker is replacing the phone, since it's a more convenient and less intrusive option in many ways as it doesn't force interaction with a screen and enables hands-free use.

Voice shopping is a high-profile use for the smart speaker, but consumers aren't taking to it in huge numbers. Part of the reluctance to actually make purchases by voice could be a lack of knowledge of the process in detail. As screens become more common on smart speakers, voice shopping and purchasing could grow more common in turn, but smart speakers with screens are still rare, more expensive, and limited in utility since consumers can only use the screen when in proximity to the device.

Consumers are highly aware that these devices are media consumption platforms. Music streaming leads the pack in actual use, with 63% of device owners saying they've paired their speakers with a service. And beyond just setup, playing music is the task most commonly engaged in on the smart speaker, with nearly two-thirds of device owners saying it's one of their three most common tasks.

Lagging behind other tools in awareness are banking and payments capabilities, such as checking a bank account balance or paying a credit card. These use cases are harder for banks to increase awareness around, since there are a large number of banks, each with a limited number of customers — and an even more limited number of customers who own smart speakers — so it's likely not worth the expense to expand efforts on this platform. Moreover, the smart speaker medium isn't suited for this type of application, as voice and financial details don't mesh.


The introduction of a screen to some smart speakers will expand the possibilities for companies developing for the device — but developers will need to resist the compulsion to use speakers to accomplish too much. The devices are primarily remotes that work best when controlling things around the home or playing audio. They are not primary consumption devices outside of audio, since they're inevitably going to be smaller, stationary screens that will provide a poor facsimile of a tablet experience. But screens could create new and improved media and e-commerce opportunities.

The smart speaker will continue to grow for a number of years to come, but the market won't continue to expand for that much longer. The voice assistant will move beyond the smart speaker and into other devices around the home. The smart speaker's growth as a device class will level off, but the changes that it brings with the introduction of voice will transform how people control their homes and media, as well as make purchases.