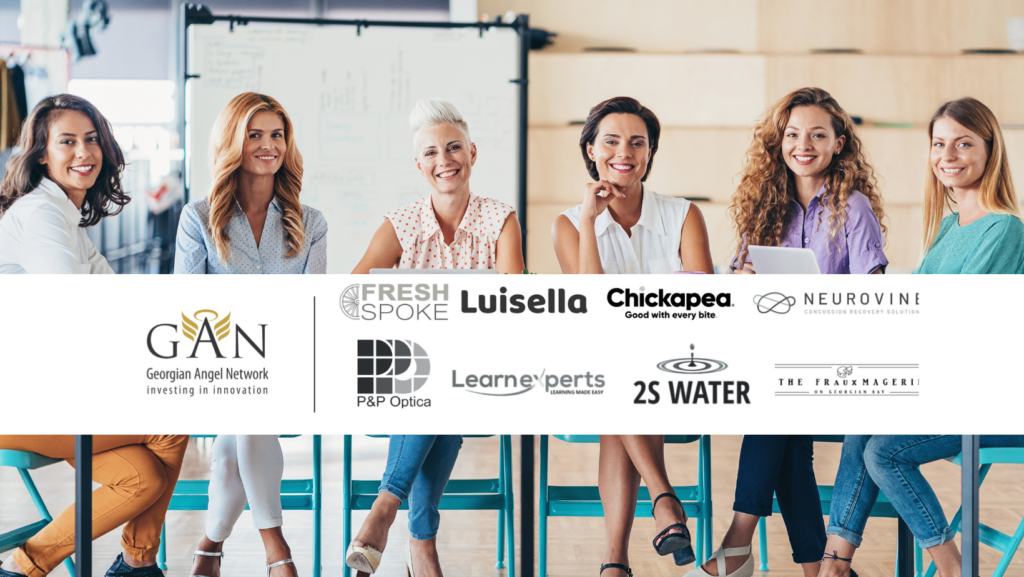 GAN is dedicated to providing investors with diverse opportunities. 
Our goal is to have 25% of our opportunities have female founders or co-founders.

FreshSpoke,
Founded in 2016, Marcia is the CEO and co-founder of FreshSpoke. A sales and local food logistics platform that connects buyer and seller with a set of easy to use features designed to simplify order, payment and delivery for local food suppliers and wholesale buyers, all as one automated and traceable transaction. FreshSpoke's delivery system takes advantage of excess capacity giving commercial drivers – including local food suppliers – the ability to make extra income delivering local food. FreshSpoke is available as a web and mobile app. 
Marcia currently lives and operates her business in Barrie!

Luisella,
Founded in 2017, creator Patricia Di'Chiara set out to find chocolate spread her family could enjoy anywhere. She was keen to find wholesome products with quality ingredients that would bring enjoyment to families. When she couldn't find one…she made it. 
Patricia currently lives and operates her business from Barrie!

Chickapea Pasta, 
Founded by Shelby Taylor in 2015, Chickapea was created to provide a nutritious, convenient and familiar meal option to families dealing with time constraints, picky eaters, allergies and health issues.
As a Certified Women-Owned Business and B Corporation, Chickapea meets the highest standards of social and environmental responsibility, accountability and transparency. We strive to empower consumers to feel better, inspiring and energizing them to do good things in the world. 
Shelby currently lives and operates her business in Collingwood.

Neurovine,
Co-Founded by Ashleigh Kennedy. Neurovine, created a business that aims to empower concussion patients by measuring brain health and optimizing their recovery process. The team has worked with leading experts in the MedTech space, conducted trials in the Digital Health program at the Elizabeth Bruyère Research Institute, and worked with individuals diagnosed with post-concussion syndrome to refine the technology.
Ashleigh currently operates her business in Toronto. She also received investment from Capital Angels, York Angels, Launch Hub Ventures, Maple Leaf Angels and Halo Health.

P&P Optica,
Lead by CEO Olga Pawluczyk. PPO's patented Smart Imaging System uses hyperspectral imaging to see the chemical make-up of your products. With PPO, you can assess qualities like tenderness; protein, water and fat content; and freshness. You can also identify and remove physical contaminants (like plastic, bone and rubber) which other solutions can't find. And you can do it all at line speed, in real time. 
Olga and her team operate from Waterloo.

Learn Experts,
Lead by CEO Sarah Sedgman. LEAi (LearnExperts Artificial Intelligence) is our digital course creator that significantly reduces the time to create courses and applies best practices so every course is consistent, well-structured and looks just like an expert built them. 
Sarah and her team operate from Ottawa.

2S Water,
Co-Founder and CEO, Anthea Sarageaunt. At 2S Water, we believe that data is the key to protecting our world's water. We give you the tools you need to see a clear picture of your water, in real time. And our fully automated systems don't require a skilled user, because we believe that access to important data shouldn't be limited by your staff's skill set or time requirements. Our mission is fresh, clean, trustable water for all. 
Anthea operates her business from Alberta.

Frauxmagerie,
Marie-Catherine is the Founder and CEO. The Frauxmagerie was founded in 2018 on Georgian Bay.  Marie-Catherine has created a revolutionary process to ferment and age plant-based cheese. Currently, we offer two unique lines of Frauxmage: The Botanic Aged line, and the Botanic Fresh line. We produce limited-ingredient, 100% dairy-, oil-, and gluten-free cheese that is certified by VegeCert and The Canadian Celiac Association. The Frauxmagerie fulfills the opportunity to live a plant-based lifestyle without having to sacrifice the taste and texture of cheese!
Marie-Catherine operates her business from Meaford.