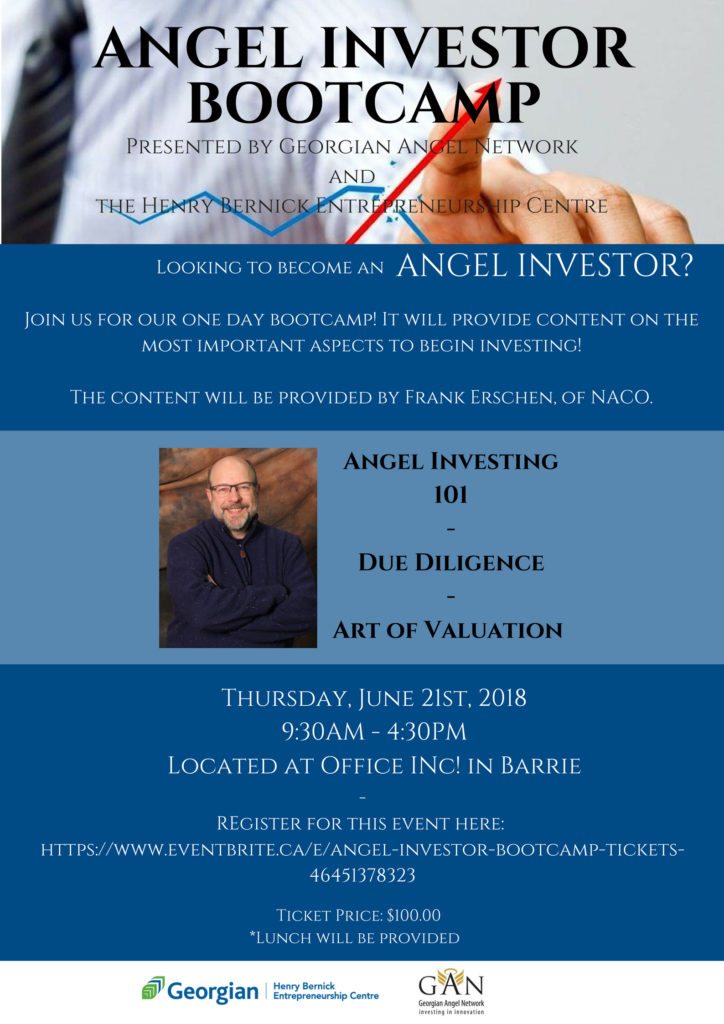 ANGEL INVESTOR BOOTCAMP
Presented by Georgian Angel Network and the Henry Bernick Entrepreneurship Centre

For anyone new or wanting to join Angel Investing, this one day bootcamp will provide content on the most important aspects to begin investing! This bootcamp will provide information on Angel Investing 101, due diligence, and the art of valuation. The content will be provided by Frank Erschen, of NACO.
Angel Investing 101
An introduction to angel investing the people, processes, and methods that provide entrepreneurial firms with capital and expertise to help them grow, and that provide investors with opportunities to learn high returns with acceptable levels of risk.
Due Diligence
This will equip you to manage the risks of choosing an investment, by performing a thorough due diligence investigation of a prospective deal.
Art of Valuation
Valuation is the key term in a term sheet that determines how much each party owns once an investment is made. It also sets the stage for the value of future financings and an eventual exit, as well as related issues such a pricing stock options, debt conversion etc.
We look forward to seeing you there!
*Following this bootcamp there will be a networking event with SCYPA, Simcoe County Young Professionals Association. This event will have a panel discussion between current Georgian Angel Network Angels and SCYPA Members to educate these youth on Angel Investing. This event will take place at 5PM.