Big news from the Ontario Centres of Excellence, they are now open on a rolling basis for the SmartStart Seed Fund (SmartStart) Program! This is a great boost for our very own GXF (GAN Xcelerate Fund!)
Ontario Centres of Excellence (OCE) is pleased to announce that the next round of the SmartStart Seed Fund (SmartStart) program is now open on a rolling basis.
The SmartStart program is designed to support new ventures led by Ontario's next generation of entrepreneurs, to transition their start-ups from product development, to market entry and company building. The program provides up to $30,000 (to be matched 1:1 by the start-up) in seed funding and support for entrepreneurship skills training and professional advisory services, helping to grow the start-ups and make them investment- and customer-ready. The SmartStart program is delivered by OCE on behalf of the Federal Economic Development Agency for Southern Ontario (FedDev Ontario).
Applying to the SmartStart program is a three-step process (please also see graphic below):
Step 2: An Endorsement letter will be secured by OCE from the RIC/CLA/OCEA Director-level or above signing officer and the start-up's advisor after the applicant has completed the Eligibility Questionnaire. This will occur between Dec. 7 – Feb. 11.
Step 3: Applications will be initiated once eligibility and endorsement have been confirmed; applicants will be able to submit their applications between Jan. 8 – Feb. 19. Applicants may work on their applications as of Dec. 7, with submissions beginning Jan. 8.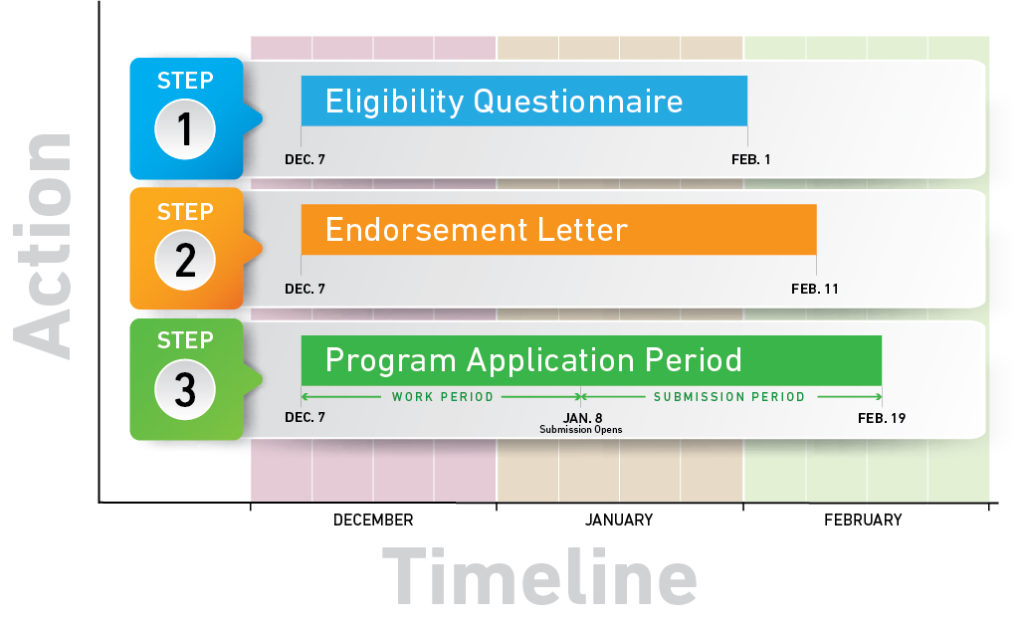 Please note that all successful awardees must attend Founders' Forum as part of Discovery, OCE's award-winning innovation-to-commercialization conference and trade show.
For more information, please visit the full SmartStart program guidelines on the OCE website.Answers to frequently asked questions about SmartStart are available.
OCE will also be hosting webinars for applicants at 3 p.m. on Dec.12 and Dec.19 to explain the program guidelines and answer your questions. If you would like to participate, please register for the December 12 webinar or the December 19 webinar.